T h e a t e r Z e r b e r u s
beckett@111
International Festival

E-WERK Freiburg (Germany) 4th – 11th March 2017
TEATERHUSET AVANT GARDEN Trondheim (Norway)
5th - 6th May 2017
111 years after the birthday of Samuel Beckett
COOPERATION PARTNERS:
E-WERK, Freiburg (GER)
LITERATURBÜRO Freiburg (GER)
KOMMUNALES KINO, Freiburg (GER)
TEATERHUSET AVANT GARDEN Trondheim (N)
SUPPORTED BY
L
aFT BW, Landesverband Freie Tanz- und Theaterschaffende
Baden-Württemberg e.V. aus Mitteln des Ministeriums für
Wissenschaft, Forschung und Kunst Baden Württemberg
und dem Kulturamt der Stadt Freiburg





The quest.
We propose an exploration of his his work, while
remaining "roughly" the same, aries from
language to language, from genre to genre, from
written page to stage to screen, from music to the
visual arts to word, from radio to
TV/video/acoustics.
Die Suche als Imperativ.
Wir erforschen wie Becketts Werk sich verändert,
von Sprache zu Sprache, von Sparte zu Sparte,
vom geschriebenen zum gesprochenen Text auf
der Bühne und der Leinwand, von der Musik und
Klangkunst hin zu den bildenden Künsten und der
Installation.
This project has been conceived by the Polish
writer, translator and director Marek Kedzierski,
working internationally in cooperation with the
Theater Zerberus Freiburg.
Das Projekt wurde von dem international
arbeitenden polnischen Schriftsteller, Übersetzer
und Theaterregisseur Marek Kedzierski konzipiert
und in Zusammenarbeit dem Theater Zerberus
entwickelt.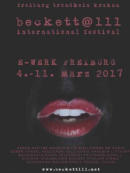 Samuel Beckett has revolutionalized theatre world-wide and influenced
musicians,artists, dancers, performers, together with cross-genres,
provoking intellectuals and scholars. Ahead of his time, Beckett
experimented with the media and techniques which only now are
becoming widespread and mainstream. "beckett@111" combines music,
theatre, performance, video- and audio art, installations, exhibits,
workshops, lectures and discussions.
Samuel Beckett, ein Revolutionär des Theaters. Er beeinflusst Künstler
weltweit, erregt Künstler und Wissenschaftler, provoziert Intellektuelle
,Seiner Zeit weit voraus, experimentierte Beckett mit Medien und
Techniken, die erst jetzt verbreitet und Teil des Mainstreams sind.
"beckett@111" kombiniert Musik, Theater, Performance, Video- und
Audiokunst, Installationen, Ausstellungen, Workshops, Lesungen und
Diskussionen.

ARTISTS/KÜNSTLER:
Walter ASMUS (D)(Ehrengast), Claire AVELINE (F),
Marianne BAUDOUIN LIE (N), Tjadke
BIALLOWONS (D), Else BØ (N), Silvia COSTA (I),
Karl DUNÉR (S), Muneer FENNEL (USA), Marek
KEDZIERSKI (PL), Joe KILLI (D), Cristin KÖNIG
(D), Park KRAUSEN (USA), Mesias MAIGUASHCA
(EC), Mark NIXON (GB), Antonio PELLEGRINI (I),
Alwynne PRITCHARD (GB), Raimund SCHALL (D),
Paul SCHIRCK (D), Gabi SCHUMACHER (D), Rainer
SIEVERT (F), Franziska STADLER (D), Sigrid
Elisabeth STANG (N), Malgorzata SZCZESNIAK,
Petra MÜLLER-STOLZ (D), Fabienne TRÜSSEL
(CH), Jazzmin TUTUM (JAM)